A bird's world is largely confined to its cage. They need toys to keep them stimulated, healthy and happy. Store-bought toys are sometimes inexpensive, but they can be costly if you're buying new ones all the time. If you want to save some money and offer your bird some fun and unique toys, you can make them at home with supplies found around the home. Toys made from household items will cost less than $1 in many cases, so you'll spend less on supplies than you would on a new toy from the store. Here are 25 DIY Bird Toys made from household items that you can make for your birds today.
DIY toys also offer your bird variety, which is important for mental stimulation and keeping your bird interested in his or her toys. To save some pennies and give your bird some toy variety, you can make toys at home with supplies found around the home. It's never too late to create one, so let's get creative! Check out these DIY bird toys in the list below!
Cheap Bird Toys DIY:
DIY bird toys are a great way to save money. You can use cheap materials and still create a great toy for your small pet. This video shows you how to make an inexpensive DIY bird toy by using only affordable materials at a low cost. You can also save money when you buy the materials because it uses recycled materials from around the house. And you can even use old clothes that are not being used any longer.
The video shows you how you can make this DIY bird toy in three easy steps and it will be ready in less than 30 minutes. You'll just need some scissors, a piece of rope, and an old sock or a t-shirt. This is one of the best DIY bird toys out there because it's made from affordable materials and it's also fun for your pet. Give it a try!
2. 4 Easy Bird Toys:
Birds love toys and fun activities. You can provide endless fun for your bird with a selection of cheap, easy-to-make bird toys. Bird toy ideas are endless, but you don't have to spend a fortune or become a DIY expert to make your bird happy. This video provides four simple ideas for how to make bird toys in your home.
These simple bird toy projects will keep your pet stimulated and entertained. If you're low on time and want to bird toys made quickly, you can buy wooden dowels from your local hardware store or craft shop. All the other materials shown here can be found around the house or purchased from your local craft store. The cost of making each of these items is minimal, so they are ideal if you're on a budget.
Homemade Bird Toys:
Birds like to play, too! They can get bored easily so it is important to provide your pets with the necessary toys to keep them entertained. Toys provide fun and exercise for your birds while also aiding in their physical, social, and mental development. Birds that are properly stimulated often remain healthier and live longer.
Creating homemade bird toys is the ideal solution for inexpensive playthings that will be safe for your pets. You can create many of these items with things you probably have around the house or you can find them at your local craft store.
It's easy to make unique things for your pet because birds have different preferences. Some birds enjoy chewing on wood or natural fibers, some like a variety of textures to play with, and some like toys that are easy for them to hang from such as bells or strips of leather or cloth. Here are a few ideas you might like to try.
DIY Parrot Toys:
Have you ever seen a parrot play with a toy? if not, then you are missing out on something spectacular. Parrots love to play with their toys. They can spend hours playing with them, chewing on them, and sometimes even destroying them. This is an ideal way for your bird to exercise, it also gives him entertainment.
This article will take you through the step-by-step process of making simple and easy DIY parrot toys that your parrot will really enjoy playing with and keep him busy for hours. Here are some simple DIY parrot toys you can create with just some everyday objects around the house. They are easy to do and cheap too!
DIY Bird Toys With Straw
This is a fun toy to create and the birds love it. It also gives them something to do while they are healing from an injury or having their beak trimmed. The instructions are for making a toy with 1 ½" paper straws but you can use any size paper straw you have available. This particular bird toy was made with ¾" paper straws and the straws were not cut in half, only cut into 3 or 4 pieces. The creator used scrap wood to build the frame and then just drilled the straws into the frame in a "random" pattern.
This project is very easy and doesn't require a lot of time or money. The only thing you need is some scrap wood, a box of paper straws, a few pieces of dowel, some hinges, and a hanger. If you have a bird toy already, you can just use the dowels and hinges from that toy to make this one.
DIY Parrot Toys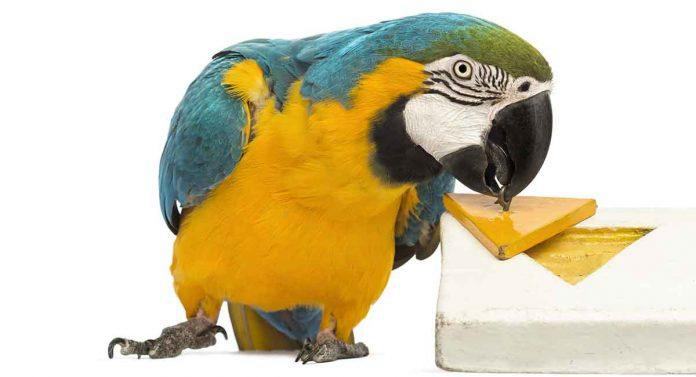 Parrots are smart and curious creatures, which makes them a lot of fun to have as pets, but they need stimulation as well. Making a DIY parrot toy is a great way to provide your bird with some fun and excitement!
However, you need to be careful when creating these toys to ensure that they are safe for your pet. You don't want to create an unhealthy environment for your bird. The materials that you choose can be harmful if they are not chosen correctly.
DIY Bird Almond Toy
Making bird toys can be a great way to keep your feathered friends happy. Bird toy-making can be very simple or complex and is a great activity for children to get involved in. They will enjoy seeing their bird play with the toys they make.
You can make many different types of bird toys. Some are made from household items and some are made from craft materials. The hanging almond toy is one of the simplest homemade bird toys you can make. You need an empty thread spool and 2 nuts (any kind of nut will do). Using wire, string the two nuts together and place them on the thread spool, next hang it up in your bird's cage.
How To Make Your Own Parrot Toys
The most important thing you can do as a parrot owner is to spend lots of quality time with your bird. The same holds true when it comes to providing toys. Sadly, some owners forget to provide toys and entertainment for their birds. If you are one of these people, this article will help you get started with making your own toys for parrots.
Once you make your first homemade toy, you will be hooked! Not only is this cheaper than purchasing expensive toys in the pet store, but they are also better than anything you will find there. They are more fun and exciting for your bird because you made them yourself, after all!
Homemade Bird Toys:
If you have a parrot or cockatoo, you know that they love to be challenged and stimulated. One of the best ways to give your bird a fun activity is to make your own homemade toys.
Making homemade bird toys can be easy. You'll need to make sure that the toys are safe for your birds, but as long as you follow a few simple rules, you can make toys for your birds that they will love. Toys give birds something to do and allow them to express their natural instincts. Toys also wear down their beaks, which are constantly growing. Giving them toys helps prevent boredom, which is why it's important to give your bird plenty of toys.
When making homemade bird toys, keep a few things in mind. Look for toys that are large enough so your bird won't swallow pieces of them while playing; they should be larger than the size of your bird's foot. Also, make sure the toy doesn't have any sharp edges or pointy bits that could hurt your bird if he gets it stuck in his throat or mouth. Make sure to inspect all homemade toys before giving them to your bird because no toy is completely safe and all birds are capable of getting hurt when playing with toys. As long as you keep safety in mind when making homemade bird toys, your bird will love having new challenges to play with every day!
10. How To Make Bird Toys:
Take the scrap fabric and lay it on a flat surface. Then place the sticks on the fabric. Cut around them so the fabric creates a tube around the stick. The more times you cut the fabric around each stick, the longer the toy will be.
You can either sew up the "tube" to create a baggie of sorts and fill it with bird-safe items like beans or nuts, or you can tie knots in each end and loop string through them to hold them together. Either way is fine!
Parrot loves this kind of toy because he can pull it out of his cage and chew on it while he sits on his play stand. He also enjoys pushing it through his bars to make noise at his cagemate! He doesn't even need to put any beads in this for it to be fun for him, just playing with the fabric is good enough!
DIY Bird Toys:
If you have a bird that loves to chew, one of the best things you can do for them is to give them plenty of toys to play with. While many people tend to think that bird toys are expensive, the truth is that you can find a variety of different toys for your pet bird in your own home! Making homemade bird toys is a great way to save money, and it's a lot easier than you might think!
This video walks you through how you can make a simple homemade toy for your pet bird using common household materials. While this specific tutorial shows how to make a toy out of wood, there are a wide variety of alternatives available to you if wood isn't your thing. If you don't have access to any scrap wood around your house, consider making your toy out of cardboard or paper mache. Just add some bells or other noisemakers and you'll have a fun new toy in no time!
12. How To Make Bird Toys With Different Materials:
Wondering how to make bird toys? Making toys is one of the best ways to keep your bird mentally and physically stimulated, as well as entertaining. Dog toys can be used for bird toys too, especially the ones made from rope or other chewable materials. Toys give your bird something to do when you're not there. They also help keep their minds active through a variety of textures and activities. And who doesn't like that?
Different birds like different toys, so it's important you know what your bird likes before you make them anything. But don't worry — if you're stumped for ideas, we have some suggestions for you in this video!
DIY Toys For Caged Birds
Bored birds can turn mean. Make sure they keep busy with a DIY toy. All you need is a toilet paper roll, glue, and birdseed.
You can get creative with this project and add bells, beads, and other interesting materials to the ends of the tubes that will make it more entertaining for your feathered friends. If you want to keep your bird's attention for the whole day, place two or three different toys in the cage and make sure to change them every few days so your pet never gets bored.
Quilted Bird House With Toy Bird Rattles
It's always fun to craft something that's both useful and beautiful. The quilted birdhouse is a great example of this. It can be used as a toy for your baby, but it's also just a beautiful home for all sorts of birds. The birdhouse can be hung from a tree, from the ceiling, or screwed onto a wooden board.
The birdhouse is made of felt, embroidery floss, and polyester fiberfill. While you don't have to use this particular combination when making your own birdhouse, the fiberfill is what gives the house its shape — if you use polyester fill or cotton filling instead and it won't have the same sort of structure. You'll probably need about half a yard of felt (about 45x55 cm) and some scrap pieces that are about 30x30 cm.
This is a very easy-to-do project/craft. This would make an excellent gift for any child who loves birds as they can put small toys in their home too!
DIY Zip Tie Bird Toy
This toy is really easy to make. All you need are a chain, a ball with holes or a plastic ring, a good handful of zip ties, and other things to add to the chain.
All you have to do is thread the zip ties through the ball and the ring, then around the chain. Do this until it's about as long as your bird wants it. Put any extra big toys that you want to hang from it on the end of the chain and there ya go! You can then hang this toy anywhere your bird likes to play.
How To Make A Bird Toy
A bird will be more than happy to shred your paper and plastic. A little time and effort on the owner's part go a long way in the pet department. This activity gives them something to do when you're not around but also introduces you to their personality. This is a super fun bird toy! It's easy to build and can be very cheap, depending on what you already have in your house. Gather up some of your old gum, paper, and a binder clip, and outcomes this great bird toy!
The best part about this idea is that it can be used for different birds because of its size. Most birds love shredding things like paper and plastic so this makes a great gift. You can even make it bigger by using a bigger gum case or wrapping multiple pieces of gum around the binder clip. The possibilities are endless!
Easy DIY Toys For Birds:
Boredom is one of the biggest factors in feather plucking and behavioral issues for pet birds. These homemade toys are great for stimulating your bird's mind. There are many different ways to make bird toys. You can make them from paper, material, or use objects around your home. You can even create a toy out of an old pen lid or paper towel tube! The possibilities are endless.
We're going to show you how to make a few projects that you can make using items around the house, creating an easy DIY toy for your birds. These toys are great working and your birds will most definitely have a fun time playing with them. Explore the video, try the steps, get creative and get your birds active.
Easy DIY Paper Bird Toy:
The bird's beak is made with 2 beads. Use 2 yellow straws cut into 9.75cm and 8 blue straws cut into 9.75cm. The bird's feet are made with 36 yellow mini cupcake liners and 36 pink mini cupcake liners. Make sure they are facing the same direction as the beak or it will not look right when you put them together. You will also need raffia string, scissors, a needle, and thread.
The instructions for this project are very easy to follow. You will have everything you need to complete this craft except for a pair of scissors and a needle. The bird and the heart are simple to make and colorful. Once completed, these would look great in a display of homemade toys or as a gift to a child.
DIY Bird Play Gym:
One of the most exciting parts of having a pet bird is watching it interact with its environment. From perching itself onto a high place to flapping its wings while hanging from the ceiling, watching birds play is entertaining. But one thing more often than not missing in most homes are fun toys and accessories that allow your bird to play on its own or with you.
Toys like bells and swings come to mind, but those can get pretty expensive for one bird's toy. And if you have more than one bird, those kinds of toys can get very pricy! To solve this problem we have a DIY bird play gym made out of PVC pipes. It provides entertainment for your birds and it won't break the bank! You can make as many or as few of these as you would like, depending on how many birds you have in your home.
Homemade Bird Toys:
There are many ways to create homemade bird toys for lovebirds. In this video, you can learn how you can create these toys and make them in a very easy way. It is also very affordable and helps you save money. You can also do this with your family members and it creates a fun bonding activity for the entire family as well.
Toys should be made from materials that are lightweight and colorful. The more colorful the toy, the more appeal it will have to your lovebird. Toys are also an excellent way for you to bond with your lovebird because playing with them is a fun activity for both of you. You can make toys out of anything that has some kind of string attached to them, such as a shoelace or a piece of string. In this video, you'll see how you can use a simple piece of wire to make a toy out of some common household items in order to help you save money on expensive toys that your lovebird may destroy anyway!
DIY Bird Toys With Bottle Caps
Do you have a little one at home who is fascinated by birds? Then they'll absolutely adore these adorable felt feathered friends. They're the perfect size to hold in your hand and perfect for playing hide-and-seek in the backyard.
We used a few simple materials to make them: paper drinking straws, empty paper towel rolls, and small clothespins for feet. This is such a fun family activity to do together and you'll be so proud when you see how pretty they turn out. You can't wait to hang your bird feeder from a tree in your yard so that you can watch your birds enjoying their new toy!
How To DIY Parrot Toys
Parrot toys can be expensive to buy in the pet store, especially parrot toys for large parrots. So why not make your own? Parrot toys can be as rough and tumble as you want them to be, so you can make them out of any material you like. They don't even have to cost anything if you use trash/recycled material.
If throwing it around and destroying it is what your parrot wants, then give him some material that will stand up to his abuse. Things like grocery bags, cardboard boxes, or paper towels are great to start with because they are cheap and easy to get. You can cover cardboard boxes with colored paper or contact paper for extra fun. If your parrot likes to destroy their toys quickly, then these should last quite a while. Parrots like their toys to be soft so get some material that your parrot will like and let them rip!
DIY Bird Toys:
DIY Bird Toys is a very simple tutorial. All you need is a few common household items that you can easily find in your house and you can create a DIY bird toy in no time. The only part you need to pay attention to is the size of the materials used. This is important because if the toys are too big it won't be easy for the birds to move them around and if they're too small, the birds can easily swallow them, which may be hazardous for their health.
You'll need some empty plastic bottles and wooden or plastic sticks from old toys to make these DIY bird toys. And if you don't have any, just go to your nearby store or garden and collect some twigs from trees or bushes.
Super Easy DIY Bird Toys:
There are so many different toys and things you can make to stimulate your bird's environment. It all depends on your bird and how they like to play. There are a few birds that enjoy chewing on things, while others just like to tear the paper off the toy.
Toys that are made of wood are typically the most durable. Some people will use a dowel rod as the base of their toy and then slide some smaller pieces of wood on it for perches and swings. There is no right or wrong way. The only thing you need to remember is that if you're going to use rope for a swing or perch, avoid using any type of string or string-like material. String usually isn't indestructible, it can fray and break off into tiny pieces which can be dangerous if swallowed by your bird.
25. DIY Straw Bird Toy:
Birds are wonderful pets that you can keep in your house. However, you need to ensure that they are busy enough and have something to do because if they don't, they get bored and then start to create problems. That is why you should consider buying them toys. But this is entirely up to you and your budget but if you want to know how to make one for your bird, check out the video!
In this tutorial video, you can learn how to make bird toys out of straws. Birds like to play and exercise just like us humans. They get bored easily so it's important to keep them entertained with these DIY bird toys. Toys are an essential part of every bird's life. They give your pet something fun to do and encourage them to stay healthy. This DIY project is a fun way to make bird toys that are colorful and will definitely be a hit with any pet bird.