If you are looking for creative yet functional DIY L Shaped Desk plans, this is one of the best places to begin your work. These 25 DIY plans are also affordable, beautiful, elegant, and easy to construct. Everyone dream of having a separate workspace but most of us can't afford it because of the high price tags. But today were made it possible by gathering this superb list of DIY L Shaped Desk plans which will inspire you to make functional aesthetic, impressive, and styling additions to your home decor without spending too much fortune. You can follow this amazing list of L Shaped Desk DIY plans to turn the wasted corners of your home into some useful and functional workstations.
DIY L Shaped Desk Plans
There are some DIY L Shaped Desk plans that can inspire you to start your work. Take a look at the plans and ideas you can use to create your L-shaped desk. Not only will you save some money, but it will also be more than ordinary furniture since you have designed it. We have included some simple DIY L Shaped Desk plans that are easy to build, even if you are just a beginner in carpentry or woodwork. We hope that you acquire the knowledge on how to build an L-shaped desk with the help of these tutorials. These DIY L shaped Desk plans are perfect for creating a new space for working at home or in the office, easily without spending too much fortune.
BTS: Building your own l shaped desk is not as scary as it seems, and with these DIY L-shaped desks with storage plans, there is no reason why you should not. From l shaped floating desk to a built-in white L-shaped desk, you can make your L-shaped desk according to your room's layout and decor. Materials required are easily available in the market, and with just standard tools, these DYI projects can be accomplished very easily.
Other Plans
Farmhouse L Shaped Desk With Storage
If you live in a small or big house and are looking for DIY ideas to build a study desk that attracts your attention, renovating an old study desk could be your best option. You will not need lots of investments to purchase a new one. If you are spending money buying new furniture, it would be better to renovate your existing furniture. The good thing about this project is the convenience. Buy the required materials and tools and get started with this chic and elegant desk.
Herringbone L Shaped Corner Desk
There are many DIY projects that you can perfect with your own hands to add a bit of freshness to your home at a meager cost. The herringbone L-shaped desk is simple but very useful, and it is some of the most preferred furniture materials in some offices and at some houses today. The reason behind its popularity may be the new and unique look itself. The herringbone L-shaped desk is a good substitute for bulky furniture. It allows you have a simple yet elegant piece, with or without any particular pattern. This way, it won't look so awkward in all spaces of your choice.
Build A L Shaped Desk With Shelves
Make a desk of your style and need. It will give you more space on the table to work on your projects, assignments, and important papers. It will be the perfect choice if you're looking for a custom-made desk for your office's corner or in the center of the room. This table has got many shelves, each one of them contains a special purpose, for example, one has got thin drawers that can accommodate your pens and pencils, or other thin items. This desk saves a lot of space and can be hidden in the corner of your room without sacrificing comfort at all.
Homemade L Shaped Farmhouse Wood Desk
Do you want to have a nice L-Shaped Farmhouse Wood Desk in your study room for your kid to study day and night? Well, if so, this is the time for it. It seems not only possible but also easy. By following the details shown in this article, you can spend some of your spare time building a wooden L-shaped desk that does not let you spend more than some dollars. This article will help you build nice furniture that would not take more than a few hours to complete. It is the best alternative if you do not have enough budget to buy a simple desk. All these tools can be found from home; take your creativity and start building it right now.
DIY L Shaped Double X Desk
Want to build DIY L Shaped Double X Desk with no woodworking experience? Well, don't worry about that anymore. Build this beautiful L-shaped desk for your room in just a couple of hours. You can paint it or stain it in your favorite color. This L-shaped desk is designed for small rooms with enough space to have a big desk. Your room could be only 8 X 8 feet, but you can still have this beautiful DIY desk to do your work with ease. As long as the tools are there, anyone near you will be able to build this desk without having any woodworking experience at all.
Wooden L Shaped Teacher Desk
Whether you are looking for a new desk to hold your computer or have an attractive desk in your room, this article will help you find the right desk for your room. This will save your space in the room and give a sophisticated look to your room decoration. Following this DIY project, you can build different pieces with L-shape tables and have a good place to do your study time. You will enjoy all the functionalities of this would-be desk since it can be folded down when you want to store it, you can hoard all the books on the other side while teaching the kids, and best of all, your kids will love taking their " Exams"!
L Shaped Office Desk Using 2x4s
If you like the idea of an L-shaped office desk but normally avoid woodworking because of its complexity, this project is for you. By constructing your L-shaped front desk using 2x4s wood boards and other readily available materials, you will save yourself the cost of purchasing a new office desk. Moreover, because of the nature of its construction, this desk can be customized to fit your exact needs. Don't be intimidated by the task because all you need is measuring tape, wood sheets, and screws and nails to get the job done.
DIY File Cabinet L Shaped Desk
Are you still thinking of Christmas gifts for your family and friends? Well, you're lucky to be here! This DIY desk with a dedicated file cabinet is the best choice if you want to buy something for them! The file cabinet is very practical since it can help people stay organized. It's worth giving it as a gift because it not only allows you to enjoy the desktop but ensures your work files can be properly stored inside. The file cabinet you are about to see is made of wooden materials, painted in classic white with an L-shaped desk on one side, allowing you to organize your work files.
Modern L Shaped Computer Desk
Are you looking for a computer desk for your study? If yes, then you will love the modern-shaped computer desk. It is sure to grab your attention one way or another with its five sleek silver legs, which are so eye-catchy. This L-shaped computer desk is a great choice and offers a lot of space for working and study materials and is easily assembled and ready to be used! The materials required are quite easy to find easily at your local lumber yard. Do remember to plan all the steps before jumping to the construction part to prevent you from wasting time and money.
L Shaped Farmhouse X Desk Plan
Are you dreaming of a new desk for your study? I bet it would be the most important piece of furniture you have. Maybe, you've been searching for a desk in the market, but there aren't any you would love to have. So what are we going to do? Build an L-shaped farmhouse X desk plan using pocket hole screws and a simple build that can fit a lot of other materials inside. Begin by cutting and assembling the frame, then add shelves and drawers. With detailed instructions that include pictures, you'll be putting together the frame in no time.
2 Person L Shaped Standing Desk
Make your working environment smart with the help of this two-person L-shaped standing desk. This table is one of the most appropriate tables for both personal and official use. Moreover, while using it, you can easily manage everything like space, storage, etc., while remaining in an ergonomic position. The beauty of this desk is its leg spaces where you can easily keep materials and anything you want to keep for working. If two persons try to use it simultaneously by chance, then there will be endless fun that will enable them to work more effectively and much better by standing up.
DIY Plywood L Shaped Desk
If you want a new or fresh look at your office, you can go for a DIY L-shaped desk project. Here is a detailed tutorial for this homemade furniture where we will be building a beautiful L-shaped desk using only wood boards, plywood sheets, and bard nails. You may also use a power screwdriver, glue, tack nails, screws, and other necessary woodworking tools. The desk has a sturdy plywood structure, and it is L-shaped so that you get ample space to sit down and work. This desk also features an attractive finish, so get ready to have it in your house's interior!
Simple And Easy DIY L Shaped Desk
A computer desk is a basic piece of furniture in every house. It can help you store your computer and easily use it in daily life at home and in the office. However, it's not easy for you to make one if you have never made such kinds of stuff before. If you want to avoid this trouble and get an excellent DIY L-shaped desk, pay attention to this article. It has an L-shaped design with shelf spaces for books, magazines, and other items. Price of the materials used to make this desk is very low. This woodworking project can be completed in your leisure time.
 Small Pipe And Butcher Block Desk
Here is amusing video instruction showing how to build a butcher block L desk using small PVC pipes and wood boards. The person has given complete step-by-step instructions in this video which you have to follow to create this tasteful table. This is a most reliable workstation that features rustic looks and also, most importantly, they are more affordable than any other one. You can DIY them in just ten easy steps, and it will cost you below $100 for this entire project. The wall mount is also done with pipes and wood boards to make it sleek. The desk is strong enough to hold two monitors, a computer, laptop, printers, accessories, etc.
Rustic Corner Desk
If you like something rustic and quirky, you should not miss this project. Get inspired by the beautiful desk showcased in the picture. You can build your own with just easy steps. The desk looks complex, but it is not difficult to build with basic materials like wood, pocket hole screws, lumber, miter saw, jigsaw, wood glue, etc. With this desk, you can makeover any corner in your home and create a stylish workspace without spending too much. It looks perfect and nice for you to do any tasks. The material cost is not expensive, which makes it an affordable DIY idea.
DIY L Shaped Craft Desk
Building a new table for arts and crafts is fulfilling. It gives you an excellent feeling of satisfaction when you finish it to perfection. This awesome DIY L-shaped craft desk is just the perfect idea to build at home. You will benefit from this awesome piece of work if you are creating something or need a place for kids to do arts and crafts in the comfort of their homes. Just follow these simple step-by-step instructions, and your dream table will be ready in no time. A great way of saving money is by building your table; this desk features two large side compartments and two smaller drawers to store all craft materials and accessories.
$130 L Shaped Office Desk
Want to add a little style to your home office? In case you are looking for a DIY project, we have the perfect plan for you! This DIY L-shaped desk plan is a simple and elegant way to bring a modern look into your office. The desk is designed for all the DIYers out there as it can be made by anyone who can use a chop saw and a cordless drill. It features slim floating shelves on both sides, a large work surface, and built-in wire management from under the desk. It is one of the cheapest ways to have your L-shaped desk, and everyone will surely admire it.
How To Build A Desk
Have you ever thought of building your custom-designed desk? If yes, then know that it's not difficult to build an elegant and roomy L-shaped desk for yourself with a few readily available basic materials. In this step-by-step guide, you will know the simplicity involved in making this beautiful desk at home. It is a popular tutorial out there, yet it is a great way to show you how to make a computer desk cost-effectively. The material list below will show you what you need to build this simple yet creative computer desk.
Cheap DIY L Shaped Desk
Are you looking for a new computer table? If yes, this article will be helpful for you because nowhere out there will you find a complete step-by-step guide that will help you build a cheap DIY L-shaped desk with a moderate budget and its plans. With a couple of inexpensive materials and tools, you can build beautiful furniture. Different from those cheap plastic materials available in the markets, this desk makes you feel comfortable by making your workspace clutter-free and reducing dust allergies to a great extent.
Long L Shaped Desk
Do you have one or two corners of your room that you never use but still save for no intention? It's time to turn those spaces into something functional. Here is an easy way of building an L-shaped desk with storage using standard-sized boards of plywood. Follow the instructions below and build your new desk customized according to the space you want to utilize within the available corner. This article will describe how to build a long L-shaped desk by yourself; you just need some basic capabilities in the construction area. When the desk is stable enough, you may need it for your children to do homework, play games, or use it as your workstation.
Desk With Burnt Wood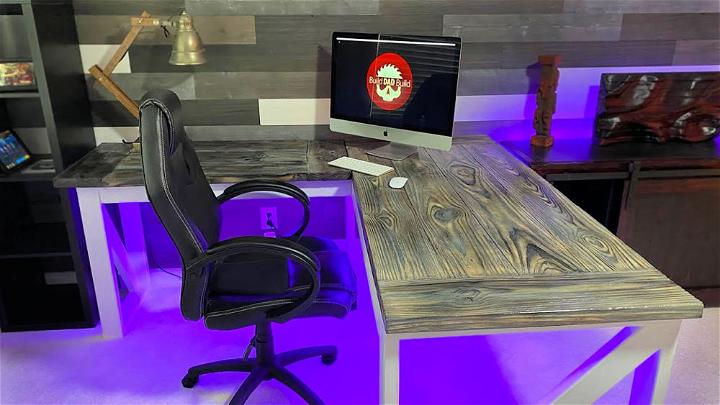 Do you love the vintage look of burnt wood? Many do, and it's easy to achieve. With just a few supplies, you can have a project with a warm appearance. The plans teach you exactly how to build the L-shaped desk in a very professional manner. You can customize it according to your requirements and get the most out of place with this L-shaped burnt wood desk with a modern twist. The plans of the L-shaped desk with burnt wood are a detailed guide about how to build a solid piece of furniture without any prior skills. The size and shape of the desk may vary depending on your needs, from two to four sides, from big to smaller ones. This plan will be instructive enough for you to use it in your home.
DIY L Shaped Executive Desk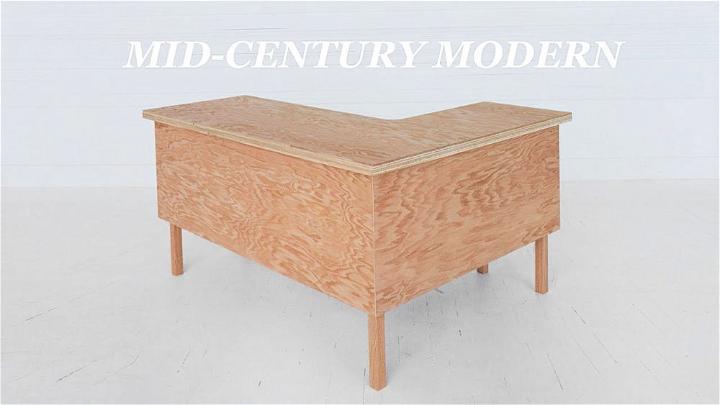 In this article, we give you a step-by-step guide on creating your DIY L-shaped desk that is perfect for your study. There are only a few main parts on the desk, so you have a lot of room for creativity and can build it using the material you have at hand. This elegant table is affordable, much easier than you want. It will add a moment of sophistication to your study or office space. You can customize it the way you want by choosing a bigger size and different shapes of the leg. It allows you to combine two to three workspaces at once and leaves more space on the floor.
Contemporary Hairpin Legs Desk With Storage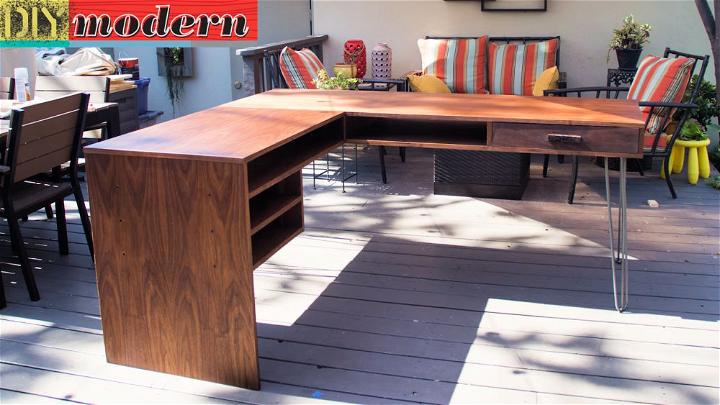 Elegant and durable, this contemporary L-shaped desk with hairpin legs is a kind of wooden art masterpiece. Since it gets you quite impressed at first sight, what else do you need to decide upon it? It comes with a cheap price, and the skillful team should need no significant effort to create it. So, get ready to add something fantastic in your room or office that helps you stay organized and makes you comfortable because there should be enough room for everything to place upon this desk. And one more tip: don't allow this awesome idea to go from your hand so fast!
Autonomous Smart Desk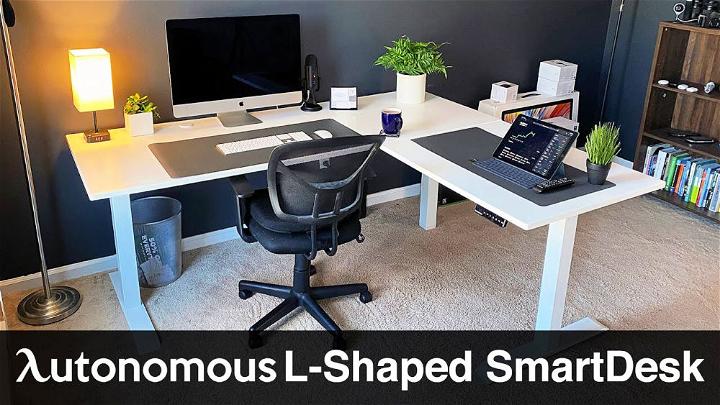 This Autonomous L Shaped Smart Table made using the wood planks in the construction is an innovative desk design you can have for your study. Join them to produce a perfect L-Shaped table for you. If you want, you may paint the wood using any color depending on your room paint. It enhances the look of your place with its elegant appeal. The advantages you get from this study table are its easy storage when not in use; accessibility while studying/working, and practical application for everyday tasks.
Farmhouse Computer Desk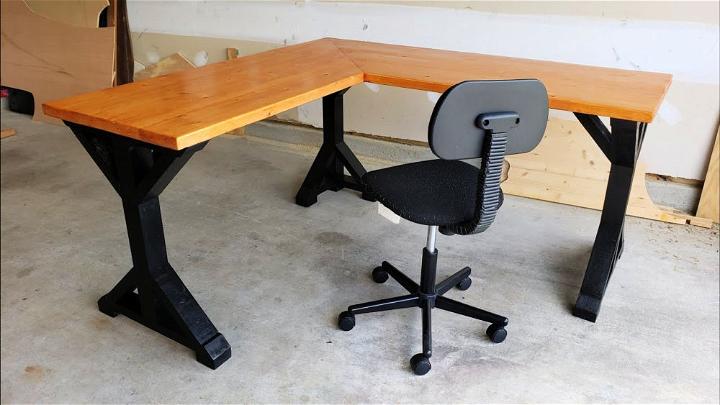 This project will walk you through the steps needed to build a farmhouse L-shaped computer desk from scratch. Using simple components, this will be a sturdy piece of furniture that can also be used in your home office. The compact L-shaped computer desk creates a small storage space beneath, which can store books and other things. The design is very durable and livable because of its clean lines and simplicity. The result is a project that is both easy to make and get around. The desk itself is very functional for performing everyday tasks like reading e-mails, surfing the Internet, writing reports, or paying bills; while being incredibly beautiful in design at the same time.